A few weeks ago I revealed some big updates I made to our master bedroom! I love seeing it all come together and take shape. I still have a ways to go, but the few changes I made in the last few months have really softened the space and made it feel more like 'home'. One of the things that made the biggest impact were the white curtains I hung on all the windows with DIY Rustic Curtain Rods.
I originally had my heart set of Restoration Hardware curtain hardware, I loved their wood rods and big rings. But after calculating what it would cost for 3 windows (one not pictured), the hardware ALONE would have cost me $500. Um no. So I decided to do my own version for a fraction of the cost. Here are a few of my tips!
I wanted the mix of the hard and soft, so I naturally went with more industrial rods and brackets and paired them with soft white curtains. We have a really large bedroom and having the curtains all around has made it feel smaller and bring it all together.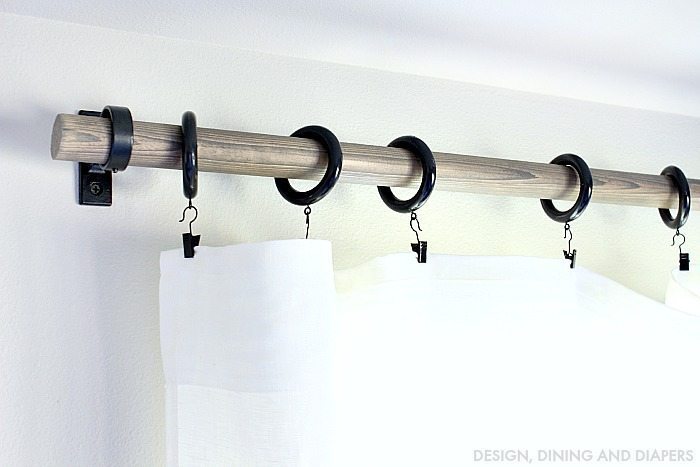 Here are the few simple steps I took in putting the curtain rods together. It was really really simple, anyone can do it.
I started with 1″ Dowel Rods . I picked them up at my local hardware store, just make sure you measure your window first to determine the length that you want.
Then, I stained them using my favorite mix of stains that I have been crazy about lately. I wanted a slight gray overtone, so I mixed Dark Walnut with Classic Gray. Just keep in mind every wood absorbs stain differently so you may need to play around with the ratio a little. Just test a small section.
The brackets were my largest expense of the whole project. I wanted something more  industrial and I went with these Industrial Loop Brackets in Black . These did add up since I had 3 windows to cover, but it was still way cheaper than going with RH.
I went with these Curtain Rod Rings. I will say, the description says 'resin', but they seem pretty cheap in person. I thought about returning them but since they are mounted so high, you can't tell.
I went with the rule of mounting the curtains halfway between the molding and the ceiling.
And that's it. They were really simple to put together and here are all my resources :)
Easy Links: 
Industrial Loop Brackets in Black
White Curtains (FYI they are a little off-white)