Disclosure: This post is in partnership with WORX Tools. All opinions are 100% my own.
Are you ready to add a new DIY project to your list? I stumbled across this cool DIY Resin Canvas Artwork on YouTube and was completely blown away by the unique and modern artwork you can create using resin and canvas and a little paint. I decided to give it a try. I completely failed the first time around, but the second attempt went MUCH better!
For this project you need a heat gun, which I've never used before and was excited to try out the latest crafting tool from WORX Tools. They just launched their MakerX Crafting Tool and it is SO cool! I have been playing around with it for the past few weeks and I can't wait to show you all the features. Today, I'm going to use the Heat Gun Attachment to make some cool modern art. You guys are going to love this look!
DIY Resin Canvas Artwork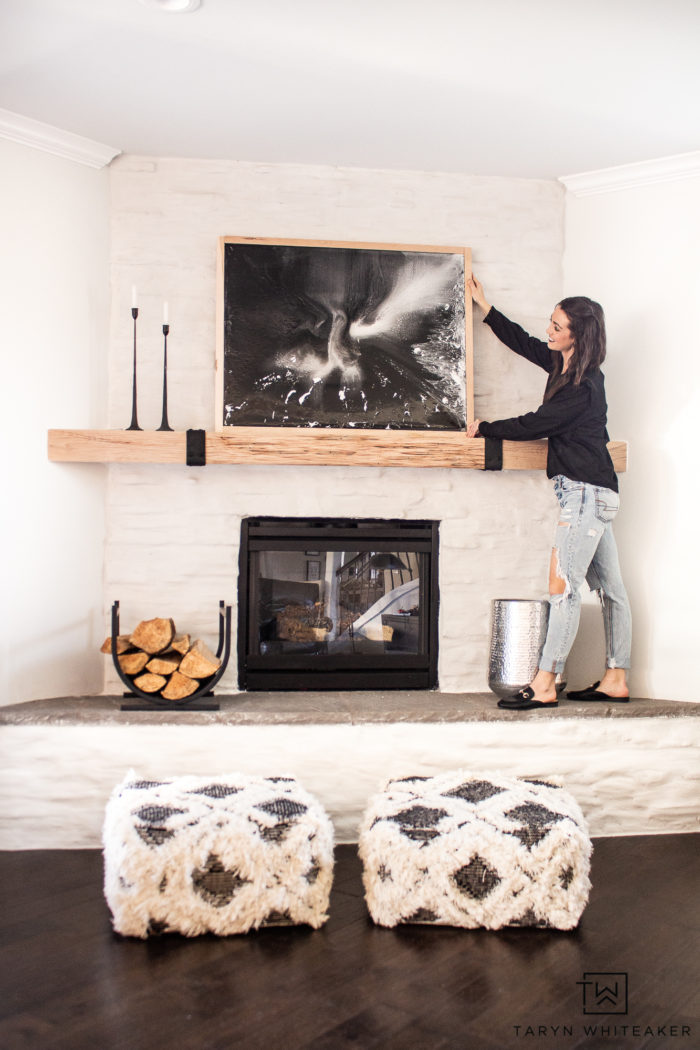 Resin Artwork Supplies
Canvas (in desired size)
Acrylic paint
Plastic Cups
Popsicle Sticks
Gloves + Mask (this stuff is stinky!)
For Frame (Optional)
WORX MakerX Crafting Tool
WORX just released a brand new tool called the MakerX, it's essentially a cordless rotary tool that has TONS of additional accessories to play with! The base includes a battery, making it portable for all projects.
The MAKERX Ultimate Combo Kit includes the rotary tool, angle grinder, air brush, mini heat gun and the wood & metal crafting tool. There are SO many projects you can do with these tools, I have a list of things I want to make!
If you are a crafter or DIYer who likes to make your own artwork, I definitely recommend this kit. Put it on your Christmas list or give it to someone who wants to up their crafting game!
How To Make Resin Artwork
After a failed first attempt at this, I decided to do something completely differently the second time around. It was a learning experience for sure and I honestly can't wait to do another one!
Paint Your Canvas
First, I decided to paint my canvas black to give it a moody and bold look, but you could also keep yours white and add your own colors to it.
Let me start off by saying that his project is MESSY. I'm all about getting messy and creative, but you should note that this one is extremely messy and sticky. You definitely want to cover the floor and wear clothes you don't mind ruining. In fact, pretty much everything that touches this project will be messy, so keep that in mind!
Mix Your Resin
Start by mixing your resin according to the package. Be sure to get enough to cover the square footage of your canvas.
Pour about half of the mixture into separate plastic cups for your colors. I added white and black paint to the containers. Mix thoroughly, very very thoroughly. At least 2-3 minutes, yet set a timer. I didn't mix enough apparently and had a few sticky spots and it was because I didn't mix enough.
Pour Your Paint On The Canvas
Time to get creative! I used a combination of clear resin, black and white mixture. I started by pouring the clear, then white and then black next to each other.
Tilt Your Canvas and Let It Spread
Then lift up the canvas and let the colors slide across from one direction to the other, slowly coating the canvas in the resin. You can keep moving the paint around to get the design you want. The resin will drip off the canvas, be prepared!
NOTE: Keep spreading the resin until it is evenly coated, or try not to add too much! I ended up with a little pool of resin in the middle of my canvas because I added too much and it settled there, so I had to remove some.
Pour Some More!
Once you have spread it enough, you can add more to coat the edges that are still bare. I decided to use a little bit of a different technique and pour clear resin, and then drip white paint directly on top for this one. Versus mixing it together. It create a completely different look this time and I loved how it turned out!
Spread it all the way to the edges to make sure the resin fully coats the canvas. If it gets rough in any places, don't worry it will settle over time.
Now that the canvas is covered in resin and you have achieved your desired design, it's time for the finishing touches!
Use Your Heat Gun To Get Bubbles Out
First, you want to use your WORX MAKERX + Heat Gun Tool to go over the entire piece. The heat from the gun will remove all of the air bubbles from the resin and help smooth out the piece. It will also help it cure faster.
You can also use the heat gun to move some of the paint lines around. As you put the heat gun on it, it will spread the paint around if you get close enough. So if you want to change up your design a little and keep playing, now is the time!
The piece will take about 72 hours to fully dry, so be patient!
Add Your Frame
Once it is cured, time to make the frame. I cut my wood to size and then used my WORX Gauge Nail + Staple Gun to secure it to the canvas, creating a simple natural wood border.
DIY Resin Artwork
I can't wait to keep playing around with my MAKERX, I have a few more projects in mind for it!
Resin Art Canvas Using Heat Gun
You can watch this short video to help you get a better idea of how to do this project!
Pin For Later!