---
Disclosure: This post is in partnership with True Value. – DIY AC Unit Cover 
I don't know about you, but I think the outside of your home is just as important as the inside. I'm talking about curb appeal. I feel like I'm still trying to get the inside of our home just right. But when you live in Seattle and it's actually nice out, you get outside! Now is the time to tackle all of those exterior projects.
Last spring we installed an HVAC system in our home (Best decision ever. Worth every penny.) We had asked the installer to place it on the side of our home, but somewhere along the line there was a little miscommunication and it got installed off our back patio. Ever since, we have wanted to build a decorative cover around it and not make it such an eye sore. Can anyone else relate?!
Today, I'm showing you how I built our DIY AC Unit Cover and show you how anyone can do it!
UPDATE:  Please do your own research before building a fence around your AC unit in terms of the distance around it and ventilation.  Before doing this project I did my own research and based the design off my findings. This is my personal blog where I share my own experiences and I may not always get it right the first time. Thank you all for your feedback, I'm in the process of tweaking the design to provide more ventilation and access. 
It's one of those projects that you think about forever and once it's done you say to yourself, 'Why did it take me so long to do this?!' I love simple projects that are subtle yet make such a difference and make your backyard look polished.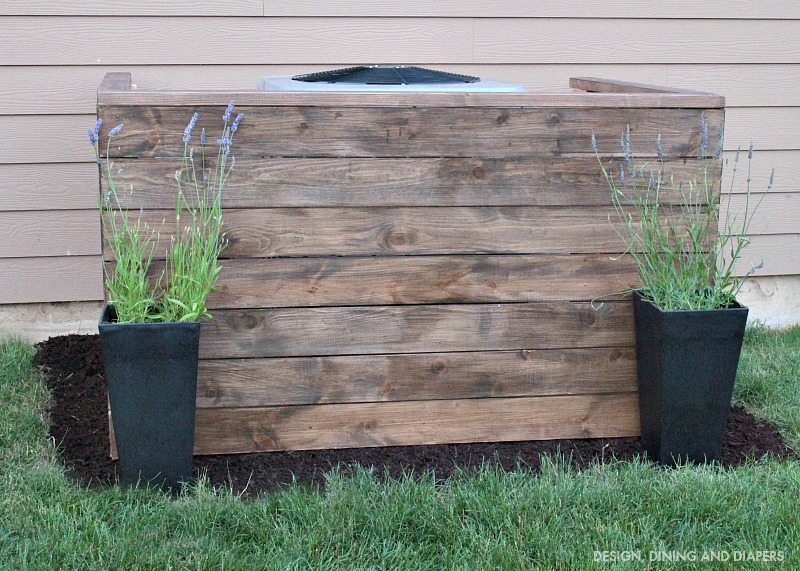 So let's dive in and you can learn how to make your own!
DIY AC Unit Cover – Supplies:
(4) 4' Fence posts
(7) 6' X 6" X 1" Boards
(14) 4' X 6" X 1" Boards
(2) 4′ X 4″X2″ Boards
(1) 6′ X 4″X 2″ Board
Sealer
Decorative filler (rocks, bark, etc.)
*Your measurements may vary depending on the size of your AC unit.
DIY AC Unit Cover – Tools:
Saw
Bucket
Paint Brush (or rag for stain)
Here is what I started with before. Just a basic AC Unit next to our house.
DIY AC Unit Cover – Posts
Use a hoe to remove the grass around the AC Unit. You may not need to do this if it's already in gravel or dirt. I left a 2' border around the unit. You will want to make sure you allow enough space so you can access the control panel.
Next, measure where you want your posts. We wanted to leave a good amount of space between the fence and the AC unit for air circulation, so I went with 14" spacing.
Use a post digger to create holes for your posts. Place a level on top of the posts to make sure the holes are equal depths. I went down about 8" which is a little on the skim side for posts, but it worked just fine for this project.
DIY AC Unit Cover – Quickcrete
Pour a generous amount of Quikcrete into the holes and wait 24 hours for them to set.
DIY AC Unit Cover – staining
When working with a permanent structure like this, you want to stain the backside of the boards prior to securing them onto the fence posts. Otherwise you won't be able to slide behind it to stain it properly (I learned the hard way doing a similar project a few years ago).
I applied three coats of stain and let them dry overnight.
DIY AC Unit Cover – the boards
Let's build! Start at the top of the front facing posts and secure one board using two fencing nails on each side. Leave a ¼" gap and secure the second one, and so forth. Each post will have 7 boards. There will be about a 3/4" overhang on each fence post.
Now, onto the sides. Start at the top and work your way down. Place the boards so that they come right up to that 1" overhang so it creates a really nice edge. Leave a ¼" gap between each board and continue until all boards are secured.
DIY AC Unit Cover – weed barrier tip
Before you put the last board onto the fence posts, lay a layer of weed barrier down. This helps prevent weeds/grass from growing up through the bark!
Then lay down your bark or rocks. Bark just happens to be a lot less expensive (only costs me $12 for the whole area) compared to $50-100 worth of river rock.
To finish off the top, secure a 2X4 board on top for a more polished look.
Apply 2-3 coats of stain (depending on the look you want) and then a sealer.
And done!
Doesn't that feel good?! So excited to have this eye sore covered up.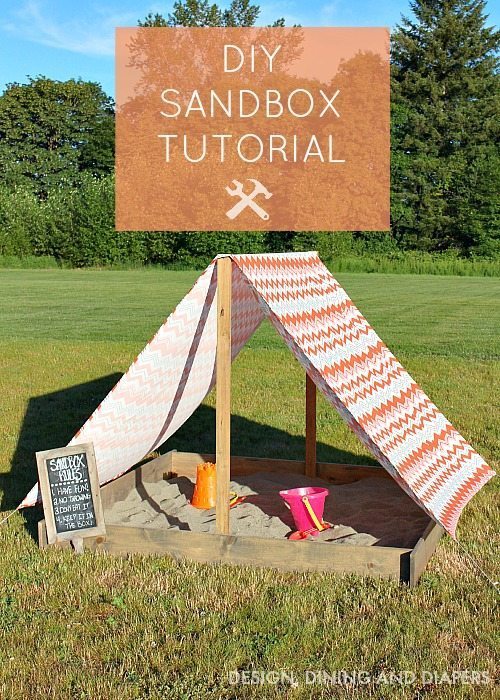 If you are looking for more outdoor projects, check out our easy DIY Sandbox Build that I built with True Value last summer!
For more fun DIY projects, tips and tricks, visit TrueValueProjects.com or follow True Value on Facebook, Twitter, Instagram and Pinterest.
I was one of the bloggers selected by True Value to work on the DIY Squad. I have been compensated for my time commitment to the program as well as writing about my experience. I have also been compensated for the materials needed for my DIY project. However, my opinions are entirely my own and I have not been paid to publish positive comments.
This is a sponsored conversation written by me on behalf of True Value. The opinions and text are all mine.