Charleston has been on my bucket list for YEARS and I can finally check it off! Last week, my husband had a business trip planned in Charleston and at the last second I was able to book a flight and join him. It's spontaneous trips like these that always end up being some of my favorite, this one didn't disappoint. I heard from many of you who were planning a trip or wanted to and asked for all my recommendations, so here we are. I'm giving you a quick recap of the trip along with a Charleston Travel Guide. I'm sharing everything I did along with additional tips I got from all of you!
Charleston Travel Guide
Things To Do In Charleston
I had just about 48 hours in Charleston and I'm here to tell you, it's possible to pack in A LOT in such a short amount of time. Charleston is a relatively small city so it was easy to walk everywhere and be able to see all the major sight seeing spots along the way. My friend told me about this "Charleston In One Day" blog post and it was really helpful in planning out my day. I was able to customize it to fit things I wanted to do, but it definitely helped give me an idea of the city.
Walking Tour of Charleston
Let me just say that you can literally walk around the entire city and do nothing else and have an amazing time. The architecture, history and sheer beauty of all of the buildings is incredible. You can book Walking Tours of Charleston if you want a guide and to hear more about the history and stories behind all of the buildings. But you can easily take it all in yourself. I suggest walking King Street all the way down to the water, East Bay or Broad Street for the best house gazing.
I could do an entire blog post on all the buildings and homes I took pictures of, they are all so stunning and filled with so much inspiration.
I heard the late night Walking Ghost Tours are really fun in case you want to try something different!
Battery Park & Rainbow Row
Once you hit the water you can walk around the entire city of Charleston. I loved walking the boardwalk around Battery Park, the houses on this street are stunning! This is also a great place to go for a run or walk to get your steps in. You can also catch the famous Rainbow Row on East Bay Street. These are now privately owned but are required to keep the same colors! It's such a fun stretch of houses. All of the historic homes have little plaques on the outside where you can read about the history and who once lived here.
Horse Carriage Tour
Many of you suggested doing a carriage ride through the city. I decided to book one for myself (my husband was working) and I am so glad I did. Whether you do the walking tour or the carriage ride, I do recommend doing at least one of them because you learn so much from the guides. After talking the carriage tour it gave me a much better idea of the layout of the city and afterwards I was able to go explore some of the areas a little more on my own.
I booked through Old South Carriage Rides and they were wonderful. You can also get a link to my outfit here. I just suggest wearing comfy shoes on your big day in the city because you walk A LOT.
Pineapple Fountain & The Charleston Market
Other key tourist spots to hit are the Pineapple Fountain and the historic Charleston City Market. Being from Seattle, it reminds me of Pike Place Market in the sense that it is filled with street vendors selling jewelry, artwork and other handmade goods. It's a fun place to walk through.
Explore The Beaches
Outside of the city are three main beach areas to explore. Sullivans Island, Folley Beach and Isle of Palms. We did quick trips out of two of them. From what we gather, all of them are a little different in their overall vibe but all are gorgeous in their own ways.
Sullivan's Island
Brian and I headed out to Sullivan's Island for drinks at appetizers and then walked the beach at sunset. It was GORGEOUS. The weather in October is truly perfect and I was amazed to hear that the water temp was still in the 80's. A huge difference from the Pacific Ocean this time of year.
Sullivan's Island is a more upscale area, I may have drooled a little over the houses on the beach front. They were incredible. Isle Of Palms is only 5 more minutes down the road from Sullivan's Island, they are very close! And I hear they have restaurants directly on the beach. I wish we would have been able to explore this area more.
My dress is from Amazon and comes in tons of colors! It's only $50 and definitely worth it. You can style it more casual or dressy.
Folley Beach
The next morning we took an Uber out to Folley Beach and learned a few tips from our driver. First of all, Folley Beach is a little harder to get out too, it takes a little longer and we heard in rush house it can take up to 2 hours. We also learned that it is VERY difficult to get an Uber OFF of Folley Island. So be prepared to wait up to an hour to find a ride. This area seems to be more of a casual surfer beach town, lots of fun casual restaurants and shops. There is one hotel on the beach and lots of vacation rentals. Because of the way the beach faces, the waves are a bit larger.
Where To Eat In Charleston
You won't go hungry in Charleston. In fact the food scene here is incredible. I definitely indulged in the fresh seafood and amazing southern food while I was there. Here are some of my favorites along with some more suggestions from all of you!
I searched for a bakery that had gluten free items and this gorgeous French bakery didn't disappoint! I fell in love with Le Patisserie in the Bennett Hotel.It's right on King Street and was absolutely beautiful inside and the lattes and pastries were my favorite way to start my day. They had a good collection of gluten free items, I might have to go back just for this bakery.
Left photo is from Longboard on Sullivan's Island. It is a newer restaurant there, we heard the original is in St. Thomas. It has great seafood and outdoor seating and there is a walkway down to the beach right off to the side of it. Very easy way to grab a bite to eat and then walk down to the beach.
Right photo is from The Tempest downtown Charleston. A lot of good Seafood, more upscale restaurant, good ambiance and located right across from the City Market.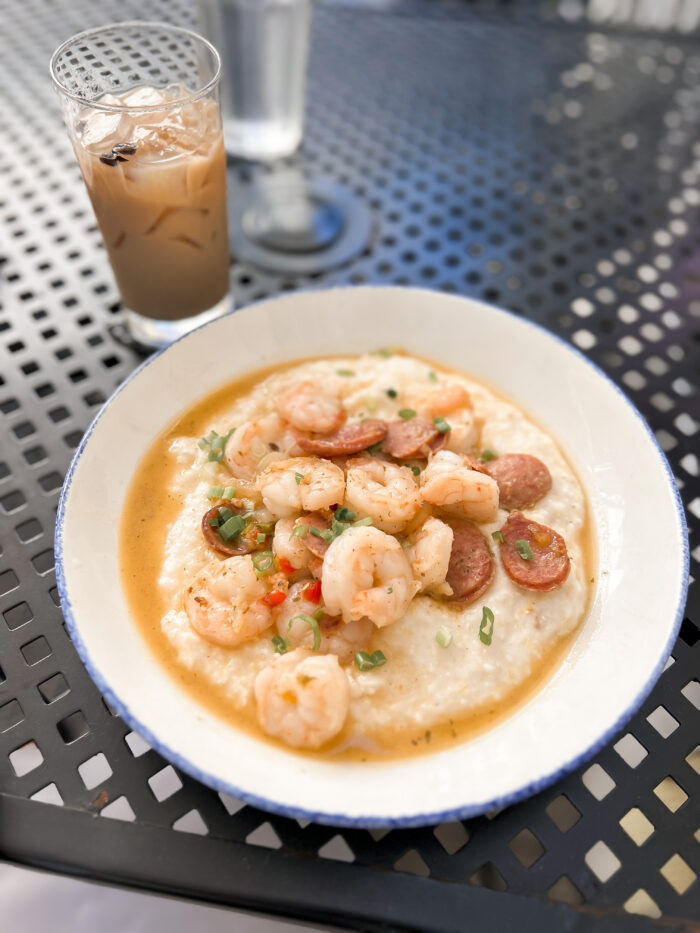 This was my very first experience with shrimp and grits and I might be hooked. It was delicious. A friend of mine recommended a stop at Poogan's Porch for Biscuits and Gravy, I couldn't have them but I'll leave the tip for you! The place in an old building and so charming. Definitely a must!
Miller's All Day was recommended by my carriage tour guide as one of the best brunch spots and he wasn't wrong. It has a cool modern retro interior. Caution there is almost always a wait here, so we put our name in and then walked down king street and looked at houses until our table was ready. It worked out perfectly.
Other food recs:
FIG – We ate here the first night, but I didn't take any pics! The food was incredible, very different but one of the best unique meals I've ever had.
Lewis BBQ – pretty much every person we talked to said we HAD to go here! I wish we would have been able to fit it in!
Where To Stay In Charleston
We stayed at the Moxy Downtown hotel. It was a great location, a little bit north of the main areas but it was only a 5-8 minute Uber right to get to where I wanted to go. Moxy hotels are known for their more urban aesthetic but are also more for business travel. While very well designed they don't have a lot of extras in the rooms like fridges, iron boards, etc. Just saying this as a heads up!
The main check in is actually on the 6th floor at their bar. They have tons of cool workspaces and entertainment areas.
If you want to stay in the heart of downtown, I recommend the Black Door Hotel, Hotel Bennet or the Francis Hotel.
My 1 Day Charleston Travel Guide:
9:30am Breakfast at Le Patisserie
Walked through Marion Park on my way to Old Southern Carriage Ride
10:45am – 11:45am Carriage Ride through King Street and Battery Park
12:00pm Walked through Charleston City Market on my way to lunch (the start of it is close to the carriage ride)
1:00pm Lunch at Poogan's Porch
2:00pm-3:00pm Walked to Rainbow Row and to a few of the parks on the waterfront. This would be a good time to see the Pineapple Fountain
4:00pm Back to the hotel to freshen up
5:30pm Took an Uber out to Sullivan's Island for drinks and appetizers at Longboard (if we did this again we would go a little further to Isle of Palms and have dinner ON the beach instead)
7:00pm Sunset walk on Sullivan's Island
8:00pm Dinner at Tempest (coming back into the city for dinner was a lot, again if I had known more then, I would have gone out to Isle of Palms and did a full dinner out there).
More Travel Guides: