You guys, I think this is my first free printable of the year! How did that happen? I have been so busy with our backyard project and working on other big DIY projects around the house that Easter sorta snuck up on me this year! I've been doing less seasonal decorating these years as I focus on more DIY, but I had to sneak in one Easter post before it got too late! Today I'm sharing this free Botanical Easter Printable shown on a super simple and classy Easter table.
Botanical Easter Printable
I like to stick to a simple neutral palette when it comes to Easter decor. Black and white may seem a little unconventional for this holiday, but I like it. There have been years when I've incorporated a little more blush pink tones and another year when I went all out pink and green Easter Table for a change, but the neutral tones have my heart.
To wanted to give this neutral table a few festive touches, so I made these simple bunny napkins and tied them together using the free botanical Easter printables. If you haven't used Canva before, it's an awesome design program and I often get a lot of templates over there for my printables and then personalize them myself.
Neutral Easter Table
Can we talk about baby's breath for a second? I cannot tell you the last time I used it in my home or decorating and I must say I am really into it this year. I think it is extremely under rated and I love how it's making a come back. It's inexpensive, sweet and simple and I think it brings in a very organic look to the space.
The organic look of the baby's breath works really well with the neutral color tones of the table. I wanted a very simple look for this table that anyone can create. The key to getting this look is layering and mix and matching dishes.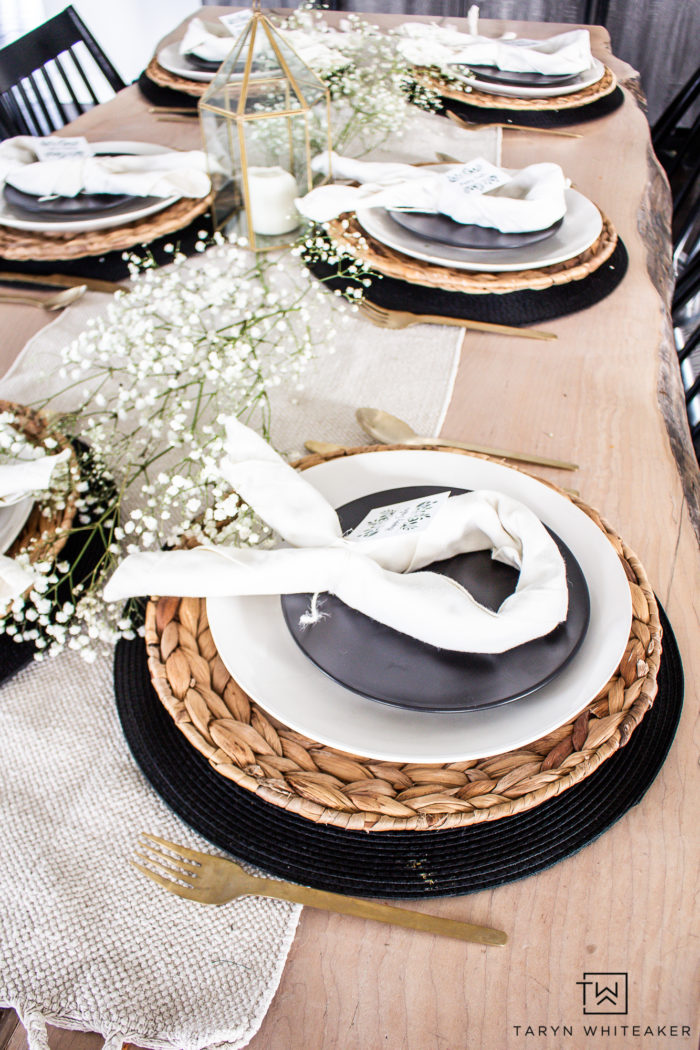 You could always add a few neutral Easter eggs or additional candles if you feel like it needs a little more than just the baby's breath. But something simple like this only costs you $5!
Don't be afraid to use place mats with chargers on top and then different colored dinner plates and salad plates. It keeps the eye moving.
DOWNLOAD YOUR FREE PRINT
Click here to download the free botanical print! You can also print this in a larger size and place in a frame or use it as a greeting card.
MORE FREE EASTER PRINTS