It's been awhile since I've talked about being gluten-free and dealing with food sensitivities. It's something I've dealt with my whole life but didn't find out about until 8 years ago when I had my blood work done. It was then that I found out I'm intolerant to gluten, eggs and soy. You can read about my full food story here. For the past 8 years I have been super strict about my diet (because I feel like a completely new person) and I have probably tried every single gluten-free food that is available out there.
Well, about three months ago I had my two older kids tested through a blood panel and they are also intolerant to gluten, eggs and also dairy. Within a month of taking them off the foods and going through the trial and error process, it's very apparent that their bodies don't do well with these foods either. Thankfully they didn't get my soy allergy so this has opened up a lot more gluten-free options for them! And let me tell you, finding yummy foods that your 3 and 6 year old approves of is not the easiest thing to do.
In the past 3 months, we have tried even more gluten-free foods available at most grocery stores and I wanted to take a second to share some of our favorites with you. It seems like more and more people are going gluten-free for health reasons and I know how hard it is to find delicious foods that are safe to eat. So here is a list of The Best Gluten Free Foods according to our family.
*While all of these foods are gluten-free, some do contain other allergens. So be sure to check the label!
Best Gluten Free Boxed Cookies: Enjoy Life Soft Cookies come in a variety of flavors like chocolate chip, snicker doodle, and double chocolate, but watch out because you can easily eat a full box in one sitting! Glutino Lemon Wafers are a very light cookie with a wafer base. These have soy in them so I personally haven't tried them, but they are one of my daughter's favorites! Glutino Oreo-Like Cookies are perfect for the Oreo fan who can't have them any more. These are a favorite with my kids!
Best Gluten-Free Pancakes: King Arthur Gluten-Free Pancake Mix  is not only the best gluten-free mix you will buy, but it's the best mix PERIOD. We use this mix for both pancakes and Belgium waffles and it is absolutely amazing. Even my husband, who is not gluten-free, prefers this over ANY other waffles which says a lot. It's a family favorite and I can honesty say we make them 3-4 mornings a week! (note: We use Ener-G Egg Replacer and Coconut Milk in ours)
Best Gluten-Free Muffin Mix: King Arthur Gluten-Free Muffin Mix is my favorite so far. It does't leave a 'gluten-free' after taste and is really fluffy. Note, the mix doesn't come with blueberries like the box may lead you to believe. I was expecting it to contain blueberries the first time we made them. We just add in a cup of blueberries or thawed mixed berries. (note: We use Ener-G Egg Replacer and Coconut Milk in ours)
Best Gluten-Free Baking Mix: When it comes to baking from scratch, I have typically always used a GF mix versus breaking out all the different flours. I used to use Bob;s Red Mill GF Flour Mix, but I have since switched to the Bob's Red Mill 1:1 Baking Mix. I think this tastes a lot better!
Best Gluten-Free Crackers: If you are looking for crackers to snack on, for dips or for cheese and crackers, here are some of our favorites, Simple Mills Sun Dried Tomato , Vans Everything Crackers (my fav), and CrunchMaster Sea-Salt Crackers .
Best Gluten-Free Graham Crackers: If you are missing those delicious s'mores look not further, there is still hope! Pamela's Honey Minis are little bite size graham crackers that a packed full of flavor and spice. These  GF Graham Crackers and  Schar Graham Crackers are perfect for s'more making or graham cracker crust pies.
Best Gluten-Free Bread: I have heard a lot of great things about the Frans GF Bread but unfortunately it has eggs in it so we can't eat it. But I recently discovered the Schar Breads (also egg and dairy free, but does contain soy) and this is so far the best gluten-free/egg-free bread we have found. It's actually soft and my kid's haven't complains yet! They love turkey sandwiches and PB&J.
Best Gluten-Free Cake Mixes: It's not secret, I have a major sweet tooth and I LOVE baking GF goodies. These are by far my favorite cakes mixes, Betty Crocker Chocolate Cake Mix and King Arthur White Cake Mix. I have shared a lot of my cupcake hacks on the blog, like these chocolate peanut butter cupcakes, Chocolate Peppermint Cupcakes and more.
Best Gluten-Free Cookie Mixes: If you are looking for the perfect cookies to decorate, the Betty Crocker GF Sugar Cookie Mix is SO good. I use these whenever I need cookies to ice or even snicker doodles. Also, the  King Arthur Chocolate Chip Cookies  are super good.
Gluten-Free/Soy Free Teriyaki Sauce: Really good Teriyaki is one of my favorite meals, I think it's common with most people from the PNW. Unfortunately due to my gluten and soy allergy, I haven't been able to have it in 8 years!!! Until recently when I found out about this Coconut Secret- Coconut Aminos that is both gluten-free and soy-free. Seriously  this sauce has been life-changing for me!
Chocolate Chips: While most chocolate chips are gluten-free, most of them contain soy and milk, so I wanted to make sure you all knew about Enjoy Life Allergy-friendly Chocolate Chips . These are free of ALL major allergens and taste amazing! These are the only ones I use :)
Hope this was helpful to you! In general, some of my very favorites brands that are always stocked in our house are Enjoy Life (their entire brand is free of ALL main allergens), King Arthur, Simple Mills, Betty Crocker Gluten Free, Vans and Glutino (this brands contains soy, but my kids love their snacks).
If you have any questions let me know!
HERE ARE A FEW MORE RECIPES YOU MAY ENJOY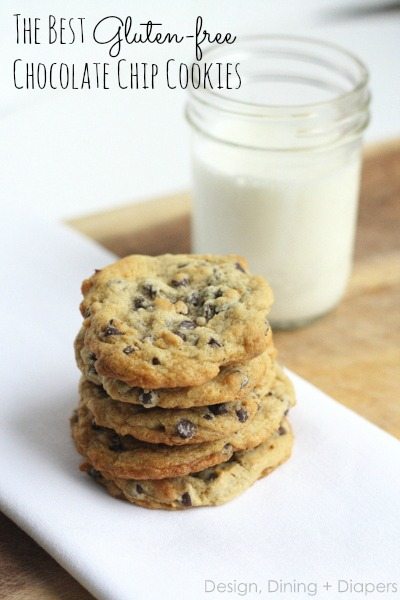 Gluten- Free Chocolate Chip Cookies
Gluten-Free Chocolate Cupcakes with Peanut Butter Frosting