It never fails that I will work for months on three different projects and then all of the sudden they all get buttoned up within a few weeks of each other! I'm so excited for another fun reveal today. I started our entry way refresh back in the spring, well technically back in February when I moved my favorite carpenter's console table out here. As of last week the sconces have officially been hung and I'm ready to show you this Restoration Hardware Inspired Entry Way!
As a creative, I'm alway trying to put my own spin on a space, while I gather inspiration from many places I always want it to have my own stamp on it. Ok, but then I found THIS PIC of on Pinterest and I got all the heart eyes and wanted to replicate it in our own entry way. I already had the dark floors and rustic wood table, I just needed to find all the other pieces without paying RH prices.
So I want to show you today how I was able to pull this off by finding really affordable pieces, all online! Some times it just takes a little hunting!
Restoration Hardware Inspired Entry Way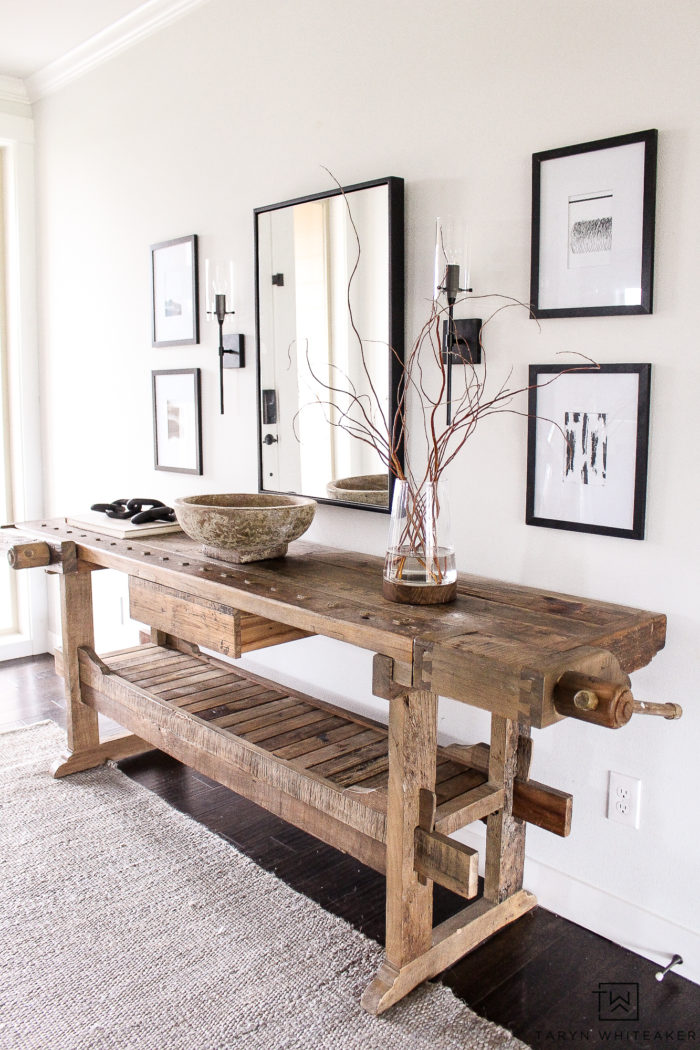 Our new rustic modern entry way feel so fresh and clean. I love the black and white tones mixed with the vintage table and modern lights and mirror.
For the past few years we had these gorgeous oversized antique mirrors in here, but it was time for a change and I was ready to mix things up. The look goes so much better with how I'm taking our whole downstairs. In case you missed it, I revealed our kitchen remodel last week, and it feels so good to see this whole look come together.
Modern Rectangular Mirror
The look was focused on this large rectangular mirror. I was able to find mine on Amazon and I am really happy with it. It is sturdy and was really easy to hang. It has great lines! I think this would work really well for bathroom vanities as well.
Modern Black Wall Sconces
Moving onto the new lighting. We had an electrician wire in new black wall scones for this space. I am all about lighting and I felt like this would add something completely different and make the space feel more intentional. I really love what they add in here. They make it feel more put together and complete in my mind. I picked these sconces up here!
You can never have enough lighting! But I'm sure everything has it's limits.
Natural Gray Entry Rug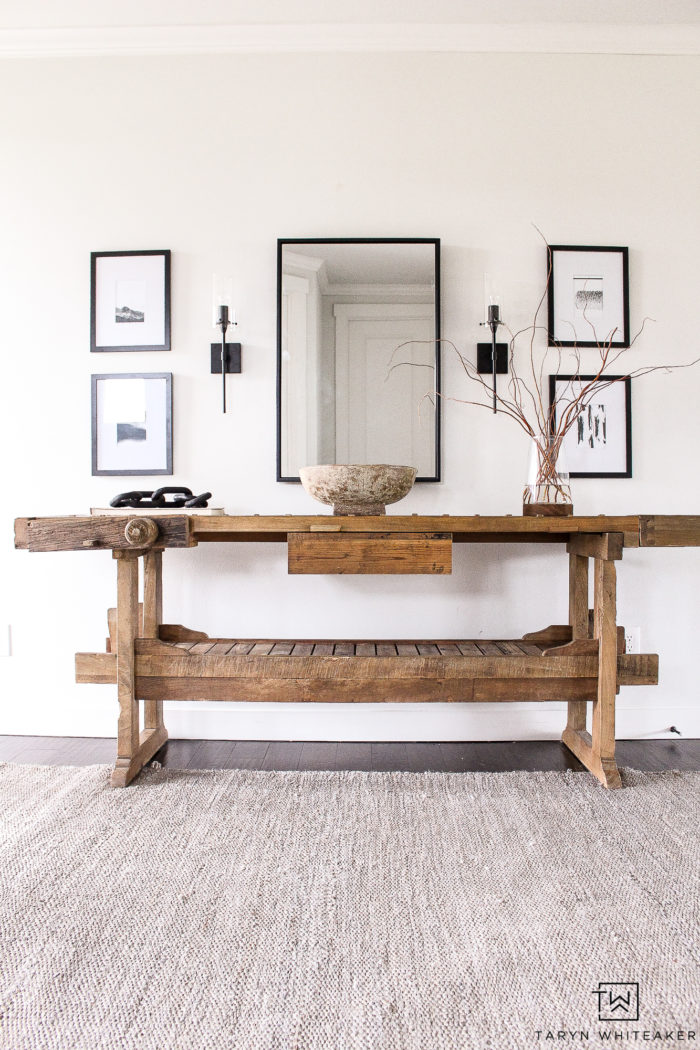 The other big change to this space was making the decision to add an entry way area rug! I worked with Wovenly Rugs to find the perfect match for in here! I wasn't sure if our entry way was large enough for full area rug, or if a runner would have been better, but I am actually loving how this all turned out! I went with this gray jute 5X7 rug and tucked it under the entry way table just a little.
I really love the texture this rug brings to this space. It has a gorgeous gray tone that has a variance of colors and really pulls the look together. It's a warm gray and I think it blends nicely with the wood tones and flooring. It comes in a few different colors and sizes. You can shop the rug here!
Entry Way Accessories
The finishing details always make the biggest impact. I have been eyeing this gorgeous wooden chain link and finally found the perfect one here. It's is a bit pricey for one item but I absolutely loved it and I know it's a piece I will use for years and years to come.
This large rustic bowl has been floating around the house since I got it over a year ago. I originally had it on our outdoor patio, it's moved to our master bedroom and now down here again. I'm pretty sure I need two because I use it so much!
PS. We got this carpenter's table years ago and unfortunately it's not sold any more!
SHOP THIS SPACE