Thank you Decoy for sponsoring this post. Complete your own tablescapes with Decoy this holiday season.
If you haven't noticed by now, putting together tablescapes is one of my very favorite things.  For me, decorating our table for dinner parties has become therapeutic in a way. Unlike rooms where you have to be very committed to a color and theme, tablescapes can be worked on in a day, enjoyed by all your guests and then taken down. And you get to start over. It allows me to dig deep creatively, work with new colors and textures all the time and just have fun playing. This week as I transitioned our fall decor into the beginning of the holidays and created this Moody Thanksgiving Tablescape with Decoy Wines.
Moody Thanksgiving Tablescape
To me, Thanksgiving is this beautiful time of transition between fall and Christmas. It's a time when the bright fall colors slowly fade and we start to add in a little more elegance and ambiance to the home.  I created this more dark and elegant Thanksgiving tablescape with the feeling I get around Thanksgiving. I envision guests sitting around the table until it's dark outside, talking amongst themselves with faces glowing by candle light and the room filled with laughter.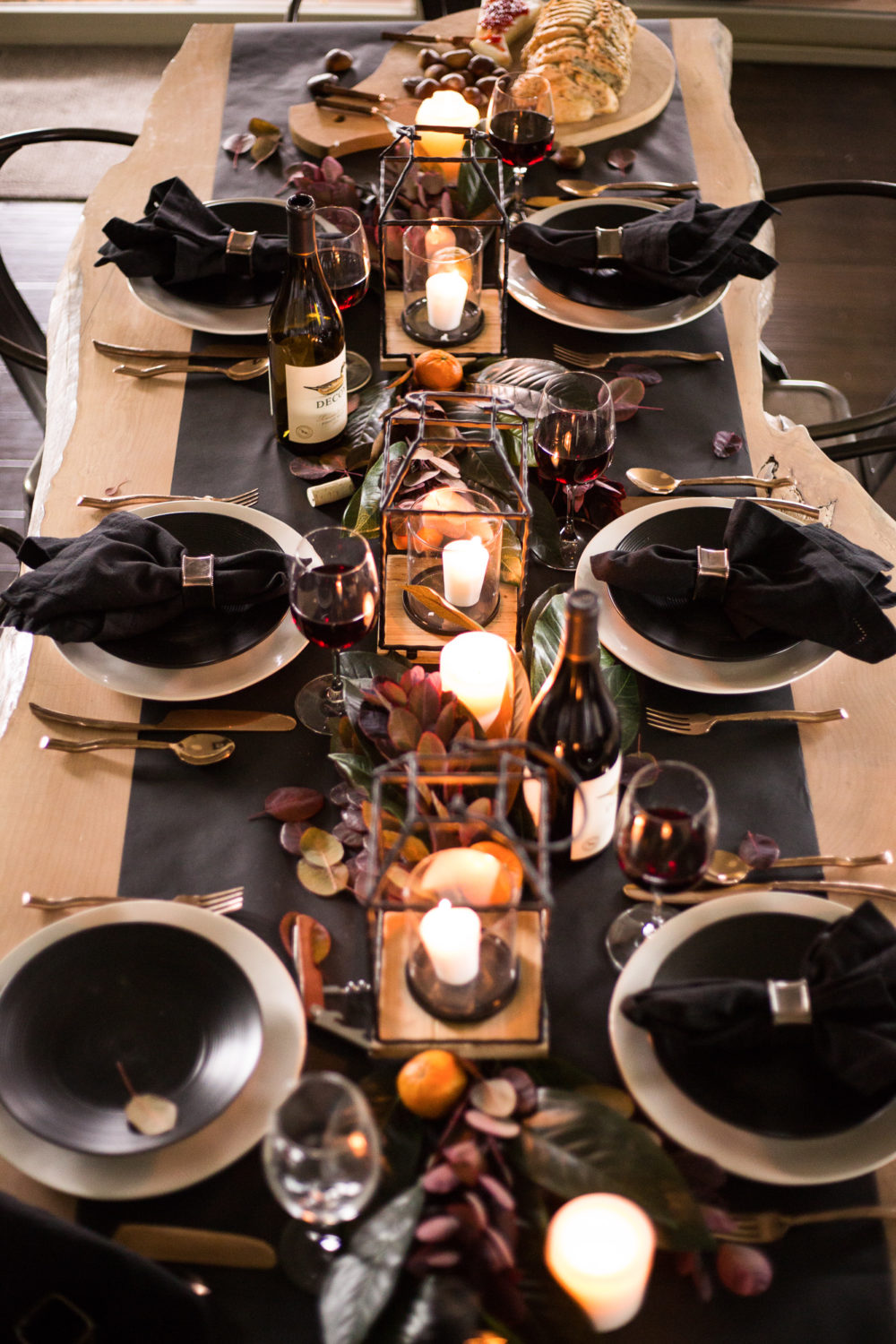 Thanksgiving is actually my very favorite holiday. Maybe it's the food, maybe it's the wine, maybe it's the fact that my birthday always falls right before the holiday and it feels like an extra long celebration. Or maybe it's just the simple fact that I love gathering with the people I care about most and feeling extra thankful for the people in our lives.
Thanksgiving Wine Pairings
While food is this the big topic of this holidays, wine is just as important! And the picking the right one to serve to your guests is key. This Decoy wine is the perfect wine to pair with your dinner this year for so many reasons. Red wine typically pairs best with a Thanksgiving meal and I love the beautiful color it adds to the table. Decoy Wine has an amazing Red Wine and Merlot that is incredible, I'll chat more about the flavors in a bit.
When walking through the wine aisle, I am always looking at the labels and which ones stick out to me. Some are artistic, some are very modern and minimalistic and some are full of nostalgia. The Decoy label features a decoy carved by Richard "Fresh-Air Dick" Janson (1872–1951) during the 1930s whose decoys are the most recognizable of all Pacific Coast carvings. Artist Michael Allard of Zimbabwe created a painting of this Pintail duck from the original carving. Every time I see the Decoy Wine label it reminds me of my family and our love of duck decoys and how I grew up surrounded by them.  I grew up in a family of duck hunters and my grandpa was an incredibly talented wood worker who hand carved duck decoys and hand painted them. We still have many of them in our family today.
So for me, even though these wines are made in the beautiful Sonoma Valley, they will always remind me of growing up in the Pacific Northwest and my dad and both my grandpas and all the memories associated with decoys.
Thanksgiving Entertaining
The Decoy Red is one of the smoothest red wines I have ever tasted. It is flavorful, silky and also a little sweet.
It is definitely a wine that everyone will sip and pause and go, "Ohhhhh! this is amazing!". At least that is definitely what we did!
Natural Thanksgiving Table Decor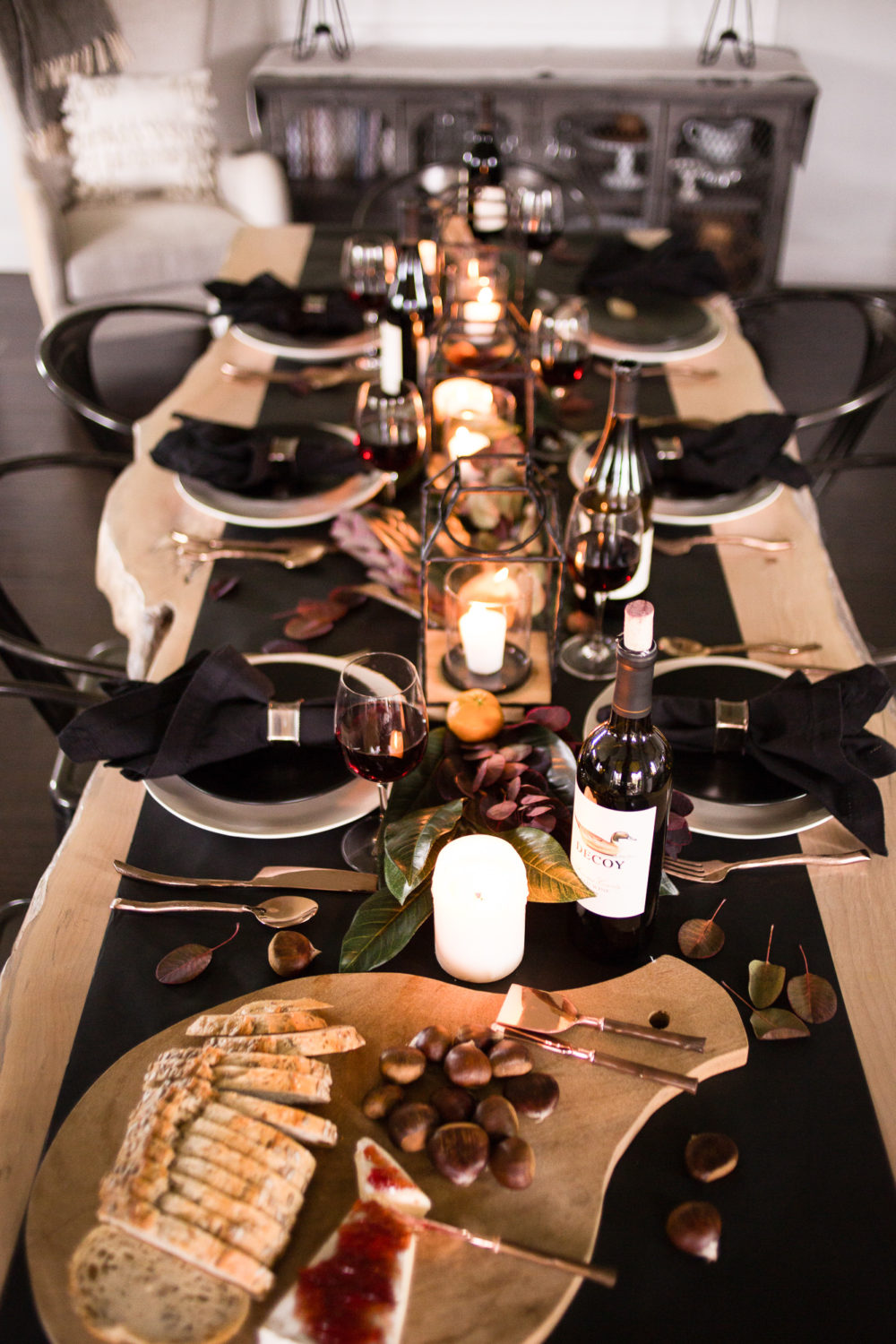 For this tablescape I incorporated a lot of dark rich natural elements to bring about that dark and moody feeling on the table. I started with a basic black butcher paper that created a more casual table runner. It was a great back drop for layering all the different textures on top. (and very inexpensive I might add!)
The next layer is using magnolia leaves mixed with a deep purple branch and pops of clementines.
For the centerpieces I used these very basic and more modern black and natural wood lanterns filled with white candles. I also added a few more candles throughout for extra ambiance.
Thanksgiving Place Settings
For each place setting, I used a mixture of off-white dinner plates with black textured salad plates and these copper twig flatware. My very favorite purchase this season! Can you blame me? I've used them in almost every tablescape this year!
If you need me, I'll just be out here enjoying a glass :)
Thank you Shaylynn Marie Photography for the stunning photos of the table!
I was selected for this opportunity as a member of CLEVER and the content and opinions expressed here are all my own.
PIN FOR LATER