Sometimes the best projects are those that are completely spontaneous and unexpected. I wasn't planning on decorating our Outdoor Living Space for Fall, but it sorta just happened and now it feels soooo cozy! I hadn't changed munch in this space since the big reveal in the spring, but one thing led to another so I snapped a few pic of this space decorated for fall.
Outdoor Living Space For Fall
I've always been believer that inspiration can spark anywhere at anytime and that's what happened here. Throughout the month we have been to the pumpkin patch a few times and my kids had started gathering their orange pumpkins for their own collection. Without prompting, they had all begun to place their pumpkins on the back patio and more and more started to appear out here. Then one day I looked outside and thought, " Oh, all those scattered pumpkins are looking pretty cute, maybe I should just finished off the space!".
Decorating With Orange Pumpkins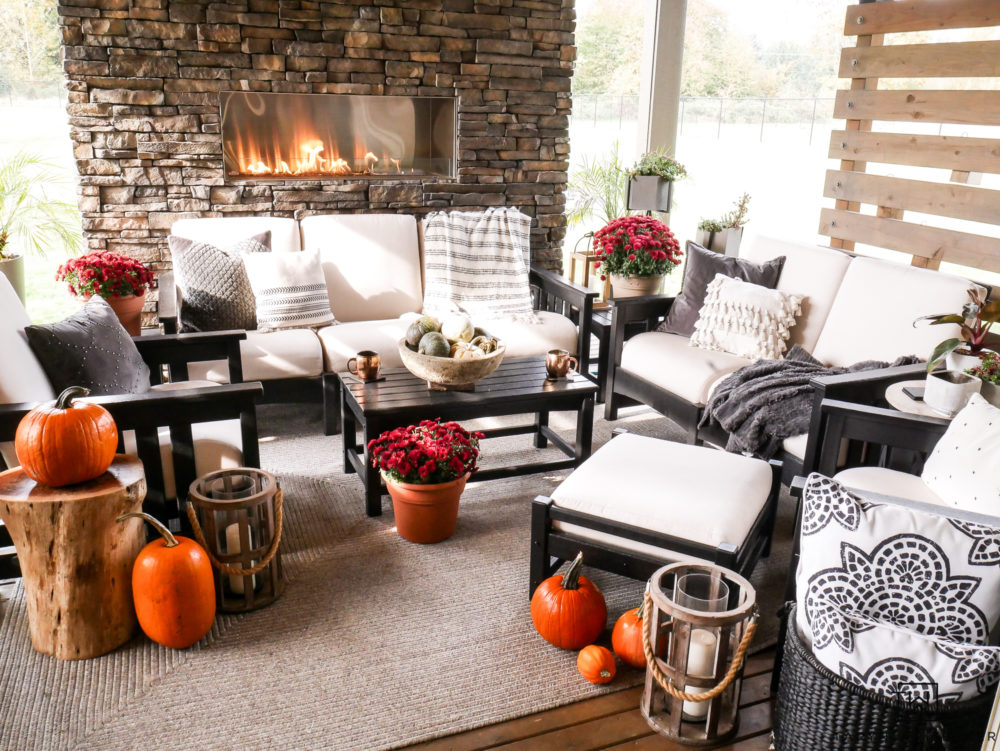 You see, the crazy thing about this space is that  I have NEVER decorated with orange pumpkins before. You read that right.  In 7 years of blogging about home decor and seasonal  ideas I have only used white pumpkins. So when I actually liked the way the orange pumpkins looked out here and brought a little pop to the space, it was actually a big milestone for me!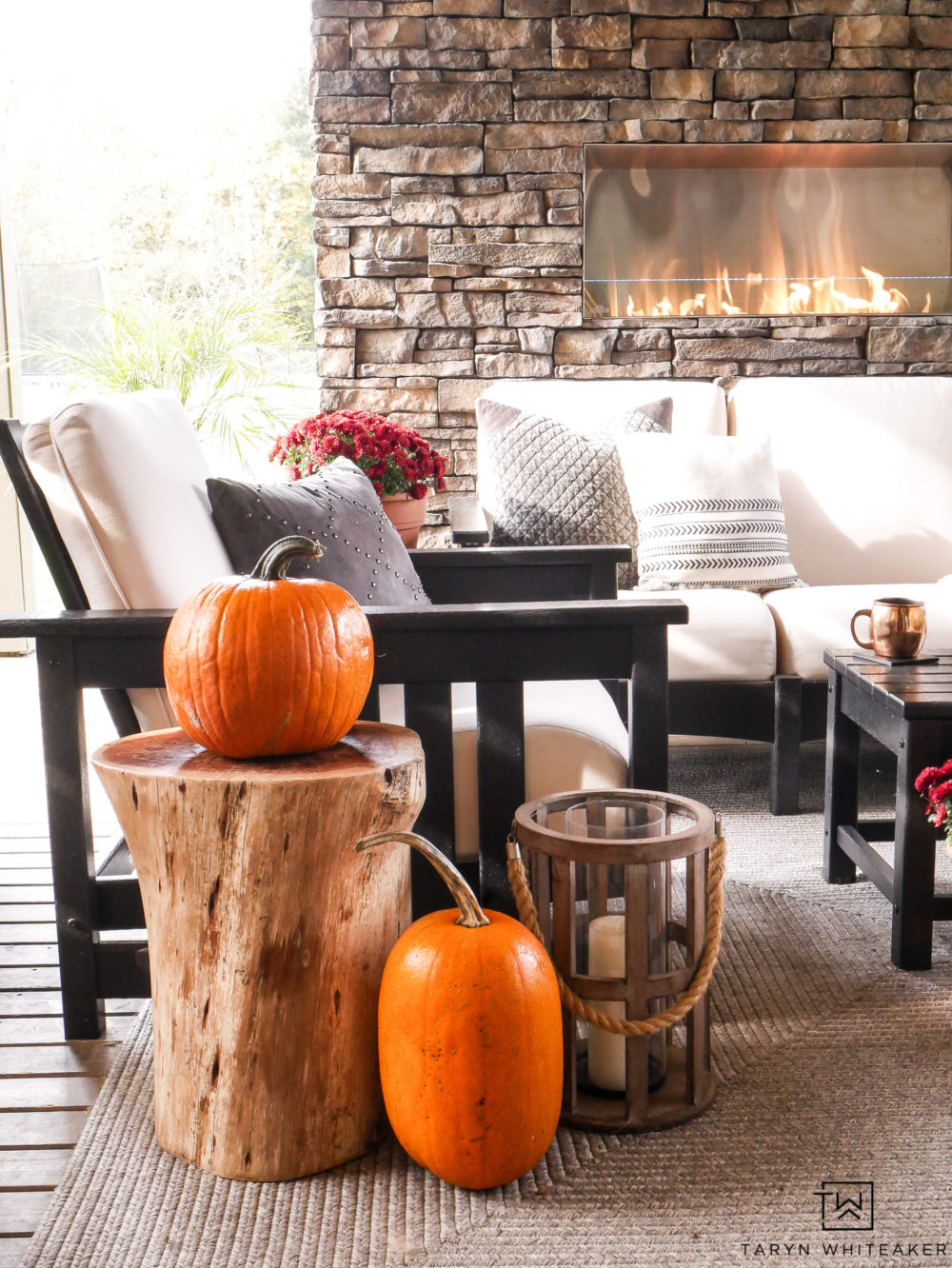 I definitely think design trends change and your own style evolved and I for sure feel like that has been happening to me over the past year. I have really been embracing the deep earth tones in my designs and it's been fun playing around with them. And I have to say, maybe you'll start to see some more orange pumpkins popping up next year :)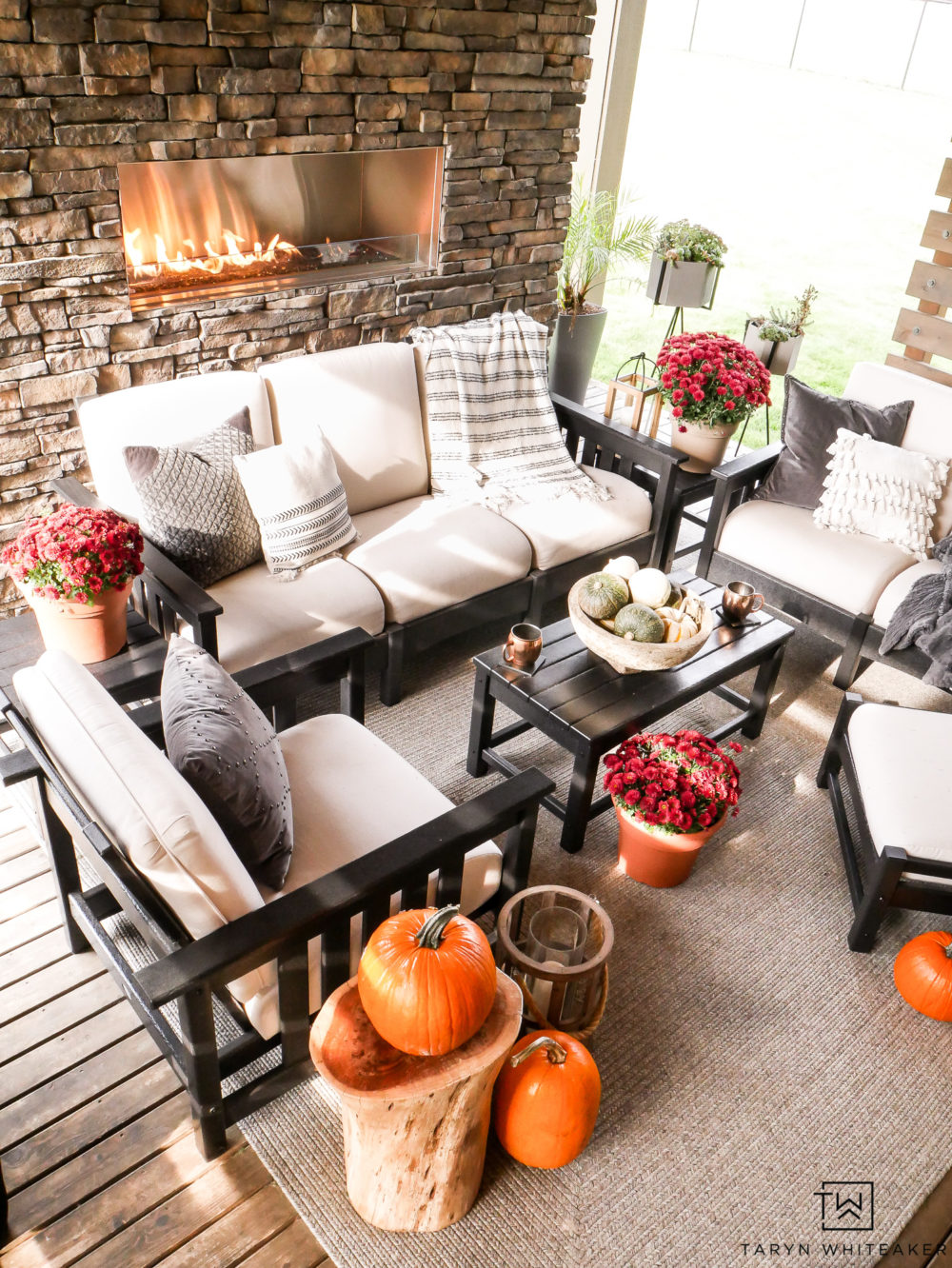 Decorating For Fall With Natural Elements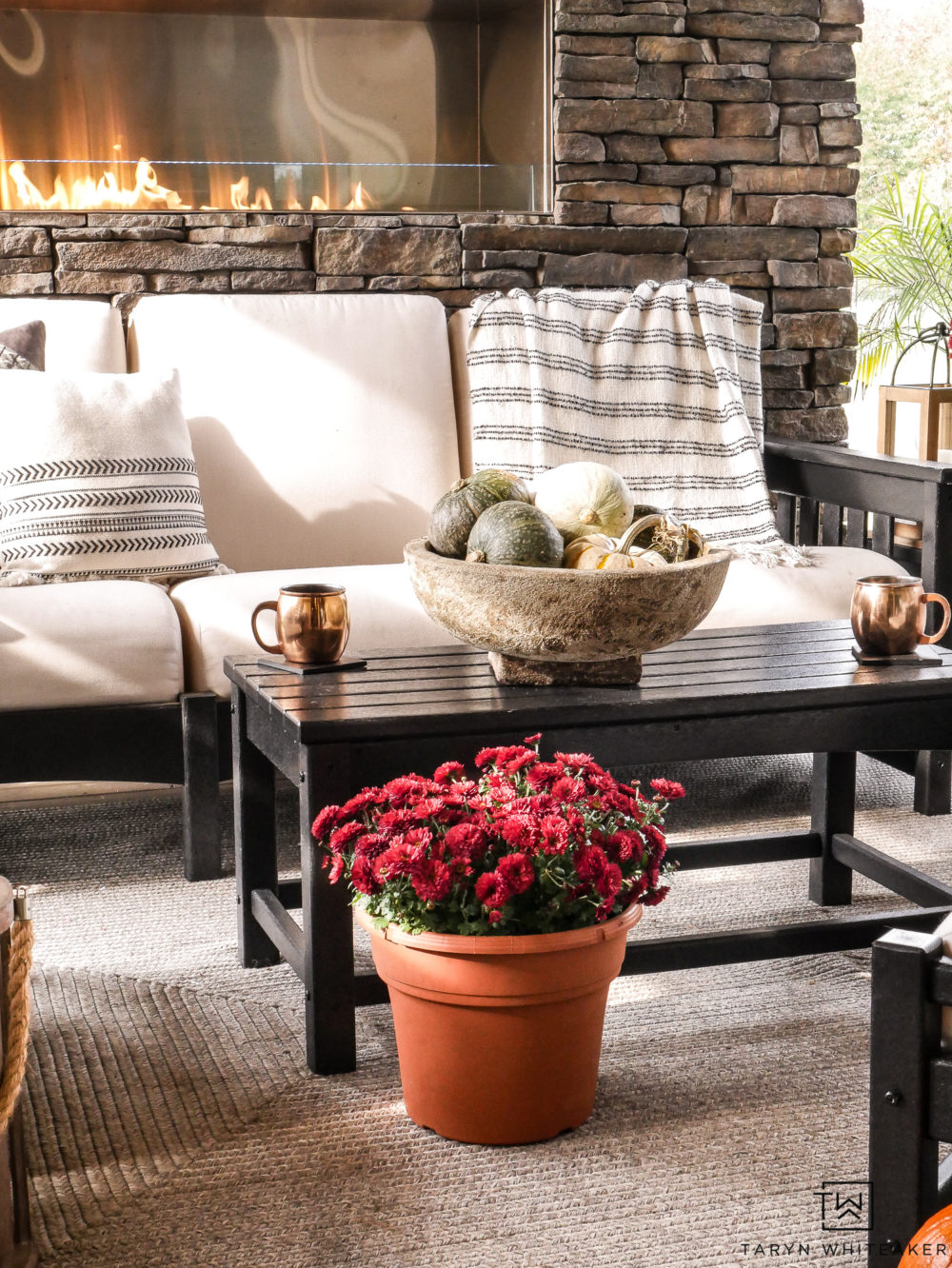 If you look back at our original reveal of this space, I really didn't change much! I added a few gray pillows and then decorated for fall using only natural elements with pumpkins from the patch, red mums and earth tone gourds.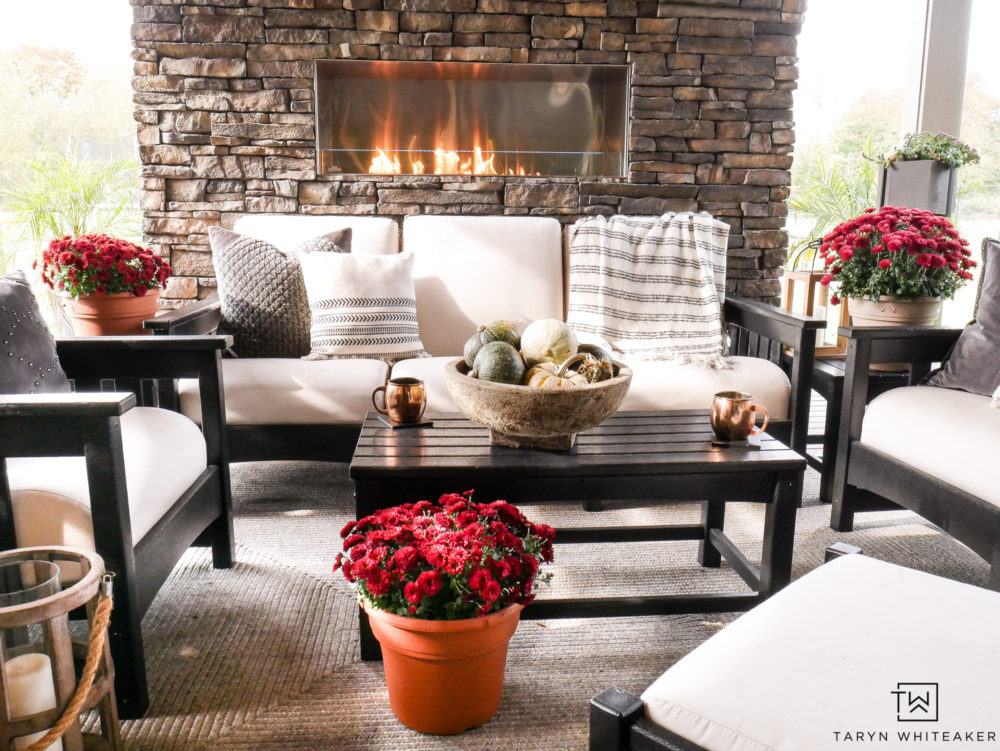 Bring On The Blankets
Adding blankets to your fall decor is an easy way to make things nice and cozy! I added a few more out here to cuddle up with!
Our sweet Kona girl loves it out here and so do we!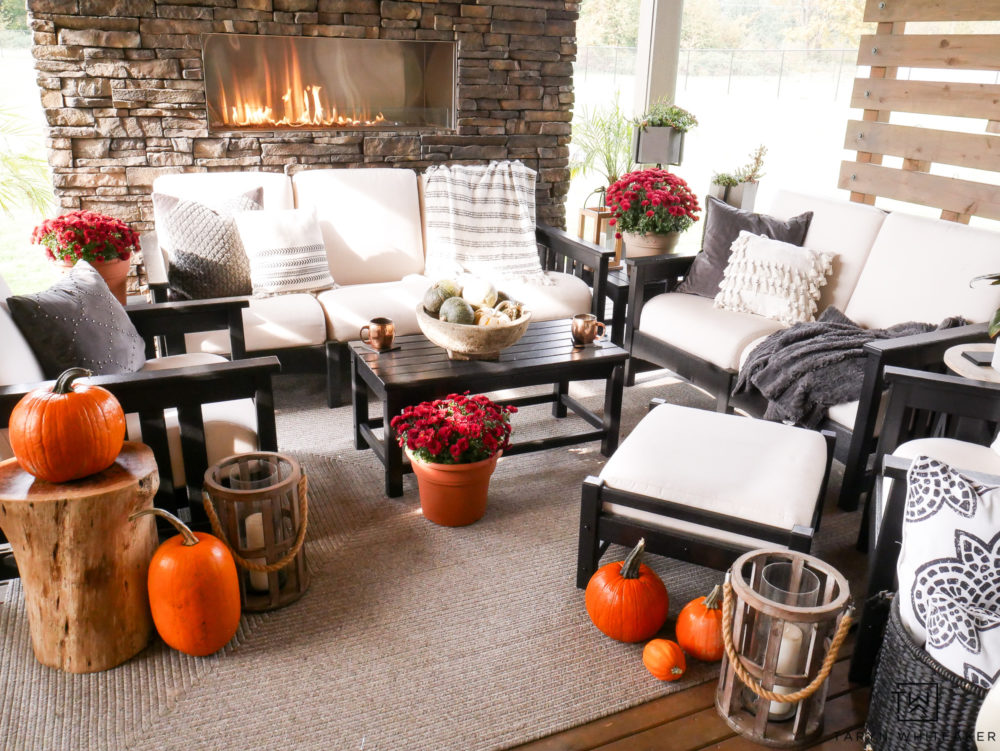 SHOP THIS SPACE